74.95







A Knee Brace You Wear on Your Thigh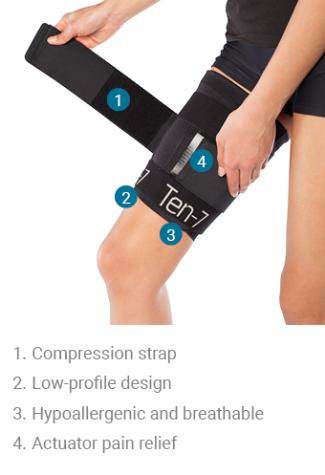 Details
The Ten-7 is the first knee brace that doesn't go on your knee! It provides immediate relief from various types of chronic knee pain including osteoarthritis, patellofemoral problems, and the long-term effects of traumatic injury without surgery or drugs. It provides high-level, targeted compression to the anatomical structures that control and support knee while being worn comfortably and discreetly on your thigh. Try a Ten-7, risk free before more invasive and expensive treatments.
Material and Care

Lightweight
Our braces are ultralight compared to the competition.

Dynamic Stretch
Our braces feature four-way stretch fabrics so they move when you do.

Breathable
Highly breathable materials help keep your skin cool and dry all day long.

Hypoallergenic
Hypoallergenic materials mean everyone can wear BioSkin braces.
Care: Hand wash in cold water and then hang to dry. For the face masks, machine or hand wash in hot or cold water and air or tumble dry.
Free Shipping & Returns

Talk to Us
Call us at 1-866-830-5777
7am - 4pm Pacific Standard Time

Free Shipping
Free shipping via USPS to anywhere in the United States. Expedited shipping also available.

Free Returns
Need to return an item? We'll pay for postage (to anywhere in the US) and give you a full refund.
Application Instructions
The Ten-7 is a Remarkable Solution to Knee Pain
TARGETED COMPRESSION
EMG studies have shown that wearing the Ten-7 alters the firing patterns in the muscles of the legs from the targeted compression provided by the actuator piece.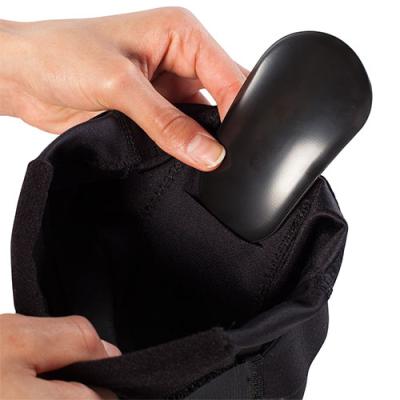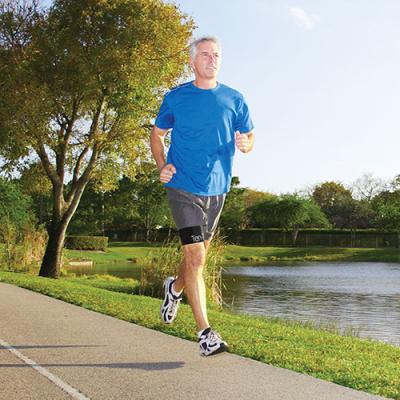 RETURN TO A PAIN-FREE LIFE
Almost everyone who wears the Ten-7 describes the sensation of feeling like their leg wants to spring forward when they walk. If you feel like you've lost the spring in your step, the Ten-7 is an easy and inexpensive way to get it back when compared to drugs or surgery.
FREE THE KNEE
The Ten-7 sits comfortably and discreetly around your thigh so you can relieve your knee pain without the restriction and bulk of a traditional knee brace.