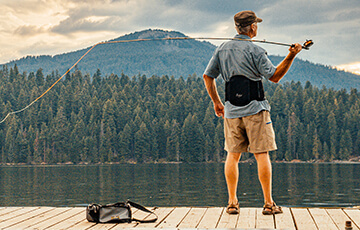 Form Designed for Function
Your spine is amazingly intricate. It is comprised of vertebrae, discs, nerves, muscles, and other tissues all working together to function as the backbone of your body. As a result, if any of these structures become overstressed, inflamed, or injured, it will disrupt your daily life with pain. BioSkin back braces are designed to relieve this pain through vectored, targeted compression. The dual pulley system is engineered to ergonomically draw the rigid lumbar panel forward into your spine to relieve tension in the surrounding area in the most comfortable way possible.

Details Matter
It is imperative that back braces are designed with comfort in mind. That's why all BioSkin back braces are made from soft, hypoallergenic materials that are thin, strong, and breathable. The side panels are vented for extra breathability and contoured to comfortably fit the shape of your body. The Vector and Back Flex easily integrate heat and cold therapy into the bracing system. Gel pads are included with these braces and can be kept in the freezer for cold therapy or popped in the microwave for soothing heat.
Spine

BioSkin back braces can help you recover from a wide variety of back injuries and conditions. Our back braces are thoughtfully designed for the right combination of comfort, compression, and support. They are also lightweight, breathable, and hypoallergenic. Learn more on our Back Injury Education pages.

Common Conditions

SI Joint Pain
Spinal Stenosis
Muscle Sprains
Sciatica
Herniated discs & Lumbar Pain

Relieve muscle soreness and restore mobility with this percussion massage tool.

Bioskin

Provides targeted, vectored compression to relieve the pain in your lower back.

Bioskin Basics

Low-profile design provides support and targeted compression to the lumbar region.

Bioskin

Fast and easy pain relief with targeted, vectored compression and a large flexible lumbar panel.

This Hot/Cold Gel Pad is used for heat and cold therapy providing extra relief for back pain. The gel pad slides directly into the lumbar pad of many of BioSkin's current back braces. Easily heat in the microwave or cool in the freezer.

The Lumbar Foam Pad fits into the Lumbar Compression Wrap and offers pain relieving support to the lower spine. The support attaches to the velcro on the inside of the back wrap.

The Flexible Lumbar Support fits into the Lumbar Compression Wrap and offers pain relieving support to the lower spine. The support attaches to the velcro hook on the inside of the wrap and can be positioned facing up or down for targeted pain relief.