Max Support Patellofemoral Brace
199.95
Hinged Knee Brace for Patellofemoral Pain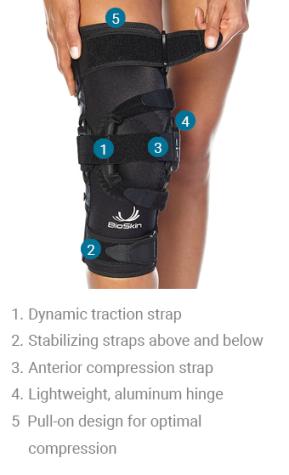 Details
Control patellar tracking disorders and patellofemoral pain with BioSkin's Max Support Patellofemoral Brace. This knee brace is designed to provide dynamic traction control, joint stability, and pain relief. A unique strapping system prevents patellar dislocations and incorrect tracking by applying a dynamic force to the patella, seating it correctly in the trochlear groove. This allows the joint to move throughout its range of motion smoothly and without pain. The Dynamic Traction Strap can be removed and flipped around to fit and protect either the left or right knee and prevent medial or lateral tracking disorders. Lightweight hinges on both sides of the brace anchor down the Dynamic Traction Strap and provide extra support and stability to the knee joint. These hinges naturally contour to the shape of your leg for optimized comfort. Breathable and hypoallergenic materials make the brace comfortable for all day use and provide medical-grade compression to reduce swelling, alleviate pain, and enhance recovery.
Material and Care

Lightweight
Our braces are ultralight compared to the competition.

Dynamic Stretch
Our braces feature four-way stretch fabrics so they move when you do.

Breathable
Highly breathable materials help keep your skin cool and dry all day long.

Hypoallergenic
Hypoallergenic materials mean everyone can wear BioSkin braces.
Care: Hand wash in cold water and then hang to dry.
Free Shipping & Returns

Talk to Us
Call us at 1-866-830-5777
7am - 4pm Pacific Standard Time

Free Shipping
Free shipping via USPS to anywhere in the United States. Expedited shipping also available.

Free Returns
Need to return an item? We'll pay for postage (to anywhere in the US) and give you a full refund.
Application Instructions
Superior Stabilization for Patellofemoral Tracking Disorders
ADJUSTABLE PATELLA CONTROL
The Dynamic Traction Strap applies light-pressure on the kneecap to prevent patella tracking disorders. Place the Dynamic Traction Strap where you need it most in order to prevent medial or lateral patella tracking as well as patella dislocation and tilt problems.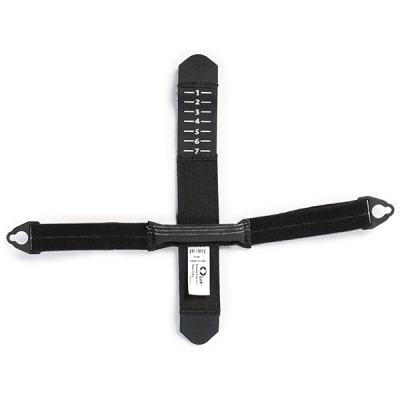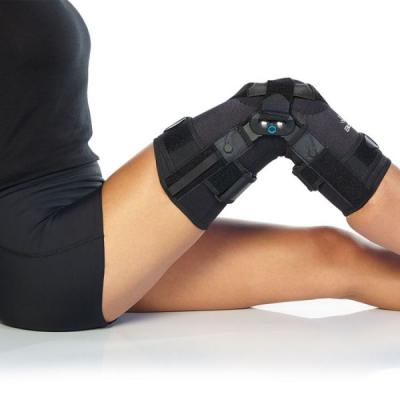 LIGHTWEIGHT AND STRONG HINGES
The hinges are made from an extremely lightweight aluminum commonly used in aviation because of its remarkable strength-to-weight ratio. This provides you with the stability of a hinged knee brace without excess bulk and weight.
ANTERIOR COMPRESSION
The closed-patella design and compression strap over the knee provide anterior compression to help correctly seat the patella in the trochlear groove. This helps the knee flex and extend smoothly and without pain. Tick marks on the strap let you set consistent pressure each time.