29.95







Lightweight and Comfortable Wrist Support
Details
This simple wrist wrap is constructed from BioSkin's light and breathable material to comfortably provide compression and support for minor wrist injuries. The Wrist Compression Wrap prevents wrist pain with compression and mild support. Wrap around either wrist before repetitive movements or heavy lifting to provide mild support to the joint. The compression will increase proprioceptive feedback to the brain, improving coordination and preventing unwanted movement of the wrist joint.
Material and Care

Lightweight
Our braces are ultralight compared to the competition.

Dynamic Stretch
Our braces feature four-way stretch fabrics so they move when you do.

Breathable
Highly breathable materials help keep your skin cool and dry all day long.

Hypoallergenic
Hypoallergenic materials mean everyone can wear BioSkin braces.
Care: Hand wash in cold water and then hang to dry.
Free Shipping & Returns

Talk to Us
Call us at 1-866-830-5777
7am - 4pm Pacific Standard Time

Free Shipping
Free shipping via USPS to anywhere in the United States. Expedited shipping also available.

Free Returns
Need to return an item? We'll pay for postage (to anywhere in the US) and give you a full refund.
Application Instructions
Get Wrist Support Without Losing Range of Motion
FITS EITHER WRIST
The Wrist Compression Wrap can be used on either the left or right wrist. Simply slide your thumb through the hole and wrap the compression strap around your wrist for mild support and compression.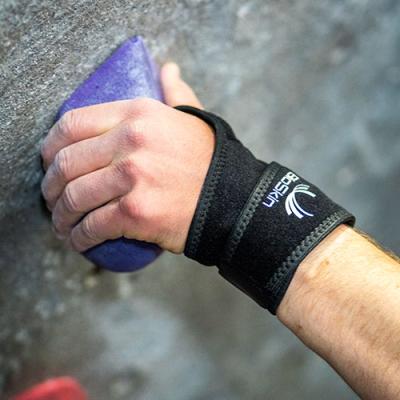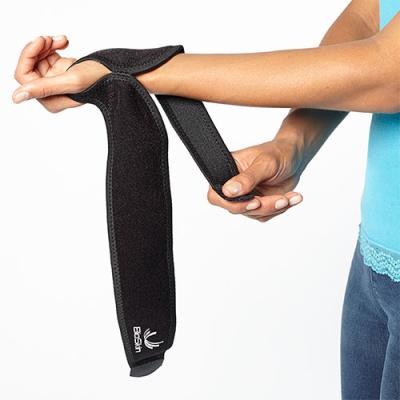 FULL RANGE OF MOTION
While wearing the Wrist Compression Wrap, you have full use of your fingers and wrist joint. Use the wrist wrap before repetitive motion or heavy lifting to prevent oncoming wrist pain.
LIGHTWEIGHT & BREATHABLE
The inside of the Wrist Compression Wrap is lined with a lightweight and moisture-wicking fabric. The material is soft against the skin and works with your body's natural climate system to keep you cool and dry.