49.95






Low-Profile Ankle Brace for Ankle Sprains and Pain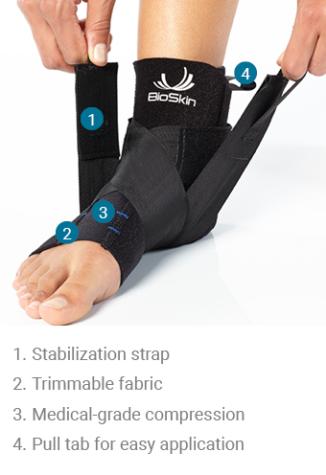 Details
BioSkin's Ankle Compression Brace offers compression and stabilization for ankle injuries. This brace includes medial and lateral plastic stays as well as figure-8 stirrup straps to limit movement in the ankle and hindfoot. The material contours to the anatomy as swelling decreases following injury and surgery. BioSkin products are hypoallergenic, breathable, and lightweight.
Material and Care

Lightweight
Our braces are ultralight compared to the competition.

Dynamic Stretch
Our braces feature four-way stretch fabrics so they move when you do.

Breathable
Highly breathable materials help keep your skin cool and dry all day long.

Hypoallergenic
Hypoallergenic materials mean everyone can wear BioSkin braces.
Care: Hand wash in cold water and then hang to dry.
Free Shipping & Returns

Talk to Us
Call us at 1-866-830-5777
7am - 4pm Pacific Standard Time

Free Shipping
Free shipping via USPS to anywhere in the United States. Expedited shipping also available.

Free Returns
Need to return an item? We'll pay for postage (to anywhere in the US) and give you a full refund.
Application Instructions
Ankle Stabilization for Pain Relief and Swelling Control
COMPRESSION SPEEDS RECOVERY
Medical-grade compression has been shown to increase circulation and reduce inflammation. Use this sleeve with targeted compression to support the ankle joint and relieve pain while your injury heals.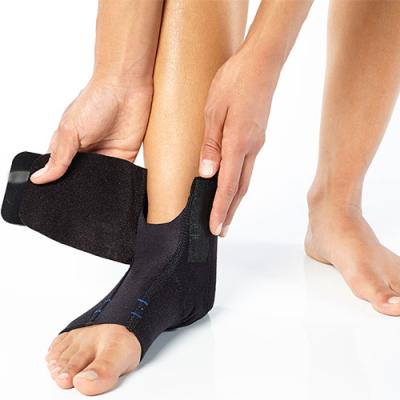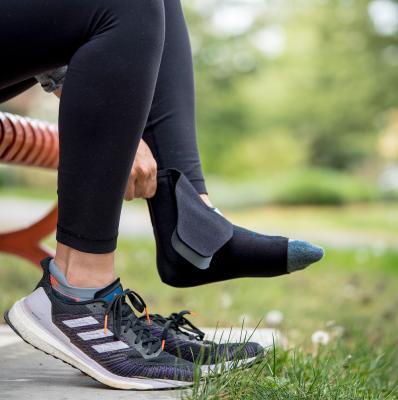 SLIM ENOUGH FOR MOST SHOES
In order to make an extremely comfortable and functional ankle brace, we knew we had to make it slim enough to fit comfortably in the shoes you wear on a daily basis. The brace is designed to hug your foot and ankle and slide into most athletic shoes and sandals easier than a standard lace-up ankle brace.
TRIM FOR A CUSTOM FIT
Everyone's feet are different,which is why a one-size-fits-all ankle brace is a terrible idea! We made the base sleeve fabric entirely trimmable to make sure your ankle brace fits your foot perfectly. We recommend trimming the end of the brace to hit the ball of your foot for the most comfortable fit. You can also trim the wraparound flaps and the top of the brace for even more customization.