Elbow Pain and Injury Solutions | BioSkin Innovative Bracing
BioSkin's elbow compression sleeves, tennis elbow sleeve, and tennis elbow band are designed to alleviate pain with medical-grade compression that increase circulation and speed recovery. Repetitive use injuries such as Tennis Elbow and Golfer's Elbow can occur during sports, at home, or in the workplace and can be extremely disabling. Elbow bursitis, strains of the biceps and triceps, joint swelling and general elbow pain can make everyday tasks difficult.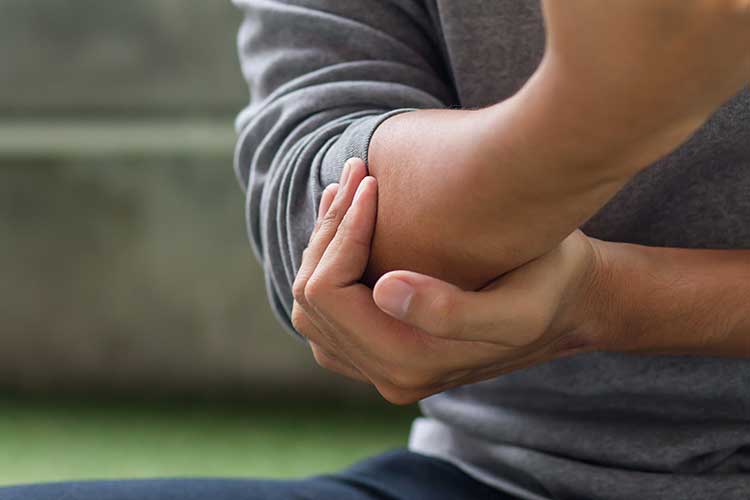 Common Elbow Injuries and Conditions
BioSkin's Elbow Compression Sleeves, Tennis Elbow Sleeve, and Tennis Elbow Band are designed to alleviate pain with medical-grade compression that increases blood flow, speeding recovery. Find your injury below to learn more.


Category Featured-Posts
Although it is referred to as Tennis Elbow, the injury is not limited to athletes and can occur from repetitive motions in the workplace or home.

Read more »

An elbow contusion is more commonly referred to as a bruised elbow. It occurs after a fall or force applied directly to the elbow.

Read more »

Strains of the biceps or triceps cause inflammation which may lead to pain, swelling, and possible bruising at the site of injury.

Read more »
A simple and effective compression sleeve to ease the pain from elbow injuries.

Designed to relieve the pain from Tennis Elbow, this low-profile band Includes a silicone pad and extra strap for additional targeted compression and pain relief.