BioSkin Wrist Brace - 8.5 Inches
41.95








An Extremely Comfortable and Stabilizing Wrist Brace
Details
Get Pain Relief Now
Remove and reshape the lightweight, supportive aluminum stays on the top and bottom of the wrist brace to suit your unique wrist shape. Four adjustable straps allow you to easily customize the brace's fit and wrist support level, ensuring a comfortable fit tailored to your needs.
Enjoy Full Use of Your Fingers
The low-profile and ergonomic design means you can fully use your fingers and thumbs while the brace provides the support your wrists need to heal and avoid further injury.
Sleep Your Way to Recovery
The BioSkin wrist brace is comfortable enough to wear while you sleep, accelerating your recovery from conditions like Carpal Tunnel Syndrome or wrist sprains. Many people find that sleeping with the BioSkin Wrist Brace relieves pain and improves functionality the next day.
You'll Forget You Have it On
No more sweaty and uncomfortable wrists! The BioSkin Wrist Brace features hypoallergenic, breathable materials, ensuring you stay cool, dry, and comfortable, even during extended use.
Easy to Use
Are you tired of complicated braces? The Bioskin Wrist Brace uses straps instead of laces, making it a breeze to put on with just one hand. Wear it discreetly under clothes, empowering you to go about your day with confidence and ease.
Multiple Size Options
The BioSkin Wrist Brace comes in two length options: 6.5 or 8.5 inches, each with multiple sizes, ensuring you get the perfect fit for your unique needs. You are viewing the 8.5" length option. Click here for the 6.5" length option.
10-Day Risk-Free Trial
We stand behind the effectiveness of the BioSkin Wrist Brace, and we want you to experience the benefits for yourself. Take advantage of our 10-day risk-free trial. If, for any reason, this product doesn't meet your expectations, we'll cover the return postage and refund the purchase price.
Get Your Life Back!
Don't let Carpal Tunnel Syndrome hold you back any longer. Reclaim your life, embrace comfort, and regain the freedom to use your hands without limitations. Click now to order the BioSkin Wrist Brace and take the first step toward a pain-free tomorrow. Your wrists will thank you!
Material and Care

Lightweight
Our braces are ultralight compared to the competition.

Dynamic Stretch
Our braces feature four-way stretch fabrics so they move when you do.

Breathable
Highly breathable materials help keep your skin cool and dry all day long.

Hypoallergenic
Hypoallergenic materials mean everyone can wear BioSkin braces.
Care: Hand wash in cold water and then hang to dry.
Free Shipping & Returns

Talk to Us
Call us at 1-866-830-5777
7am - 4pm Pacific Standard Time

Free Shipping
Free shipping via USPS to anywhere in the United States. Expedited shipping also available.

Free Returns
Need to return an item? We'll pay for postage (to anywhere in the US) and give you a full refund.
Application Instructions
Instant Pain Relief from Carpal Tunnel Syndrome and Wrist Sprains
CUSTOMIZABLE PAIN RELIEF
The BioSkin Wrist Brace features an aluminum stay on the top and bottom of your wrist for optimal support. Each stay is constructed from a supportive yet flexible aluminum that can be bent to fit the exact contours of your wrist and hand.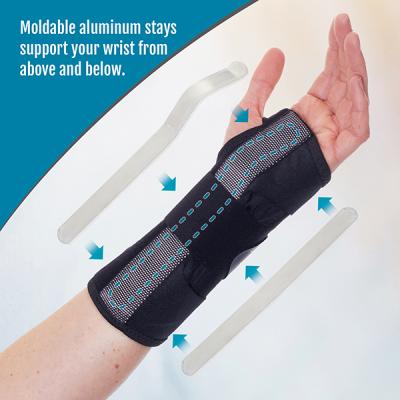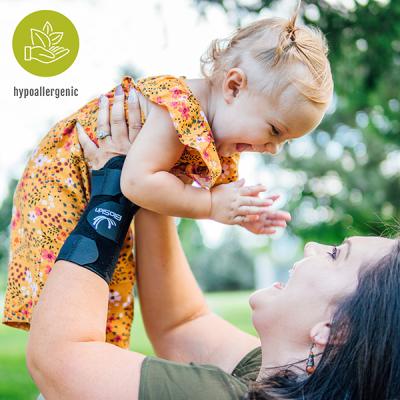 All-Day Comfort
A wrist brace must be comfortable enough to wear all day without hindering daily activities. With its ergonomic design and high-quality materials, the BioSkin Wrist Brace is one of the lightest and most functional wrist braces available.