Premium Wrist Brace - 8.5" Length
41.95






An Extremely Comfortable and Stabilizing Wrist Brace
Details
Our Premium Wrist Brace is a comfortable way to stabilize the wrist joint and limit movements that aggravate carpal tunnel syndrome, wrist sprains, arthritis or bursitis. The low-profile and functional design of the brace allows for full use of your fingers while limiting motion of your wrist. The Premium Wrist Brace features soft, moisture-wicking microfleece around the skin and across the sensitive area between your thumb and fingers to keep you cool, dry, and comfortable. The lightweight, supportive stays on the top and bottom of the wrist brace are removable and can be reshaped for a customizable fit.

Featuring straps instead of laces, the Premium Wrist Brace can easily be put on with one hand. The streamlined, ergonomic design of the wrist brace makes it easy to wear under clothes and comfortable enough to wear all day long. It's also easy to wear while you sleep, which is recommended when healing from conditions such as carpal tunnel syndrome or wrist sprains. The Premium Wrist Brace comes in two length options: 6.5 or 8.5 inches, each with multiple sizes so you can get the perfect fit. You are viewing the 8.5" length option. Click here for the 6.5" length option.
Take advantage of our 10-day risk-free trial. If for any reason this product doesn't work for you, we'll pay for return postage and refund the purchase price. Click here to learn more.
Material and Care

Lightweight
Our braces are ultralight compared to the competition.

Dynamic Stretch
Our braces feature four-way stretch fabrics so they move when you do.

Breathable
Highly breathable materials help keep your skin cool and dry all day long.

Hypoallergenic
Hypoallergenic materials mean everyone can wear BioSkin braces.
Care: Hand wash in cold water and then hang to dry. For the face masks, machine or hand wash in hot or cold water and air or tumble dry.
Free Shipping & Returns

Talk to Us
Call us at 1-866-830-5777
7am - 4pm Pacific Standard Time

Free Shipping
Free shipping via USPS to anywhere in the United States. Expedited shipping also available.

Free Returns
Need to return an item? We'll pay for postage (to anywhere in the US) and give you a full refund.
Application Instructions
Reviews
Instant Pain Relief from Carpal Tunnel Syndrome and Wrist Sprains
CUSTOMIZABLE PAIN RELIEF
For optimal support, the Premium Wrist Brace features an aluminum stay on the top and bottom of your wrist. Each stay is constructed from a supportive yet flexible aluminum that can be bent to fit the exact contours of your wrist and hand.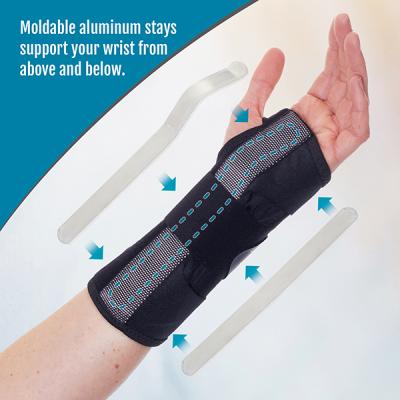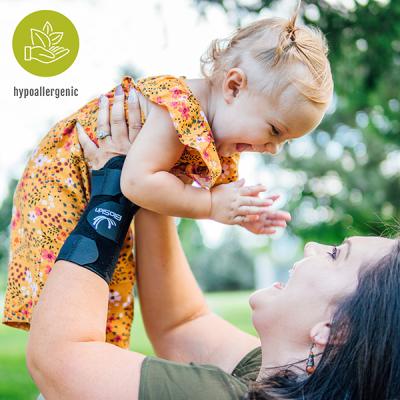 ERGONOMIC DESIGN
A wrist brace needs to be comfortable enough to wear all day long without hindering daily activities. With its ergonomic design and high quality materials, the Premium Wrist Brace is one of the lightest and most functional wrist braces available.