Compression Knee Brace with Gel
44.95
Relieve Pain Caused by Swollen or Irritated Joints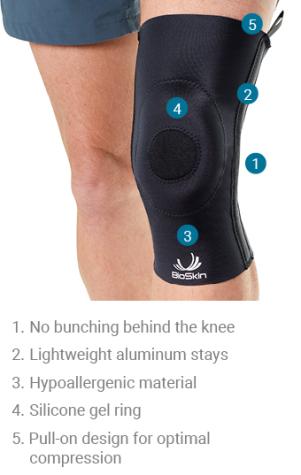 Details
The Compression Knee Brace with gel is an all-purpose knee brace, perfect for relieving pain from a number of injuries including swollen joints and mild osteoarthritis pain. A silicone gel pad encircles the kneecap, providing passive massage to remove swelling and alleviate joint pain. Flexible side stays provide comfortable support to the joint. The brace is constructed from BioSkin's proprietary hypoallergenic, breathable and compressive materials so it is comfortable enough to wear all the time while still providing medical-grade compression. Finger loops are included for easy application.
Material and Care

Lightweight
Our braces are ultralight compared to the competition.

Dynamic Stretch
Our braces feature four-way stretch fabrics so they move when you do.

Breathable
Highly breathable materials help keep your skin cool and dry all day long.

Hypoallergenic
Hypoallergenic materials mean everyone can wear BioSkin braces.
Care: Hand wash in cold water and then hang to dry. For the face masks, machine or hand wash in hot or cold water and air or tumble dry.
Free Shipping & Returns

Talk to Us
Call us at 1-866-830-5777
7am - 4pm Pacific Standard Time

Free Shipping
Free shipping via USPS to anywhere in the United States. Expedited shipping also available.

Free Returns
Need to return an item? We'll pay for postage (to anywhere in the US) and give you a full refund.
Application Instructions
An Ideal brace for relieving pain and being active
REDUCE SWELLING AND DISCOMFORT WITH GENTLE MASSAGE
A comfortable silicone gel ring massages the knee cap and helps reduce swelling. When the knee joint is injured, swelling tends to linger in the spaces around the patella. The silicone gel ring pushes out the lingering swelling to promote recovery and facilitate pain relief.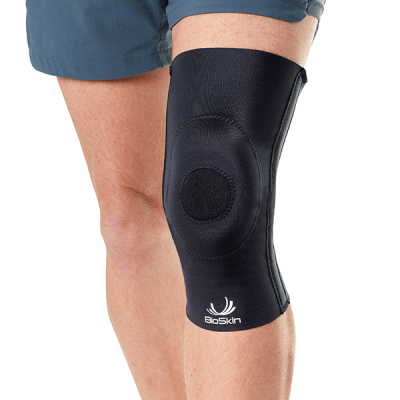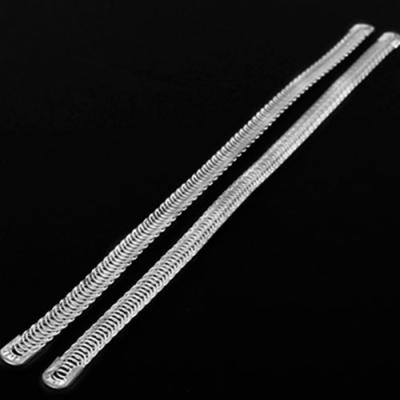 LIGHTWEIGHT STABILITY
Lightweight stays on each side of the brace offer mild support to the knee joint without inhibiting range-of-motion. This means your knee gets the extra help it needs while you keep doing the activities you love.
NO BUNCHING BEHIND THE KNEE
We've sewn the back of the knee brace in tension with an extremely lightweight fabric that will not bunch when you walk. We've also avoided irritating seams in the area behind the knee. These thoughtful details make this brace one of our most comfortable and easy-to-wear products.